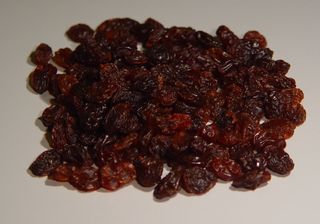 Half a cup of raisins is around 60g of carbohydrates which is the top source of energy for muscles during training. Raisins are not only dense in carbs, but they don't bloat the stomach. They are also rich in powerful antioxidants. The California Raisin Marketing Board along with Sphera Foundation in Los Altos California did tests on athletes who ate a cup full of raisins before athletic events and found that they were better protected from oxidative damage then those who had a glucose drink.
Hard training causes the muscles to build up free radicals. This is because of the increased oxygen that is required while training. This build up of the free radicals will then affect the training performance. This can often result in increased muscle soreness afterwards.
Raisins have what is known as high oxygen radical absorbance capacity (ORAC). This means that their anti-oxidants will enter the muscles and get rid of the build up of free radicals. If you can remove the free radicals from the muscles, the performance will improve. They are also a great source of fibre and potassium.
For people who want to gain weight you can imagine how good they are. 1 cup of raisins is worth 530 calories. If you have a weight problem then you need to be very strict how you use them as they are known as a calorie concentrated food. (Higher calorie density)
They have a lot of merits and are one of my favourites. I did not realise just how many calories they have and that can easily account for my increased weight. I am now using them as I would other supplements like creatine, in moderation.
For more information on Nutrition and Bodybuilding click here.